Search For The Nina – Classic Sailing Yacht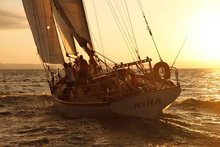 MERT Worldwide – Maritime Emergency Response Training
The search for the classic racing yacht Nina has been formally suspended after 12 days of searching.
The seven-strong crew of the 84-year-old wooden vessel, which was travelling to Australia from the Bay of Islands, was last in touch over a month ago when the ship encountered a storm.
Over the last 11 days, there have been nine extensive searches over an area more than eight times the size of New Zealand.
An Air Force P3 Orion search plane sent out to look for signs of the yacht has made no sightings of the vessel, its liferaft or debris.
Shoreline searches by fixed wing aircraft and helicopters also failed to find the vessel.
The Rescue Coordination Centre New Zealand (RCCNZ) operations manager John Seward said the search effort had comprehensively covered all areas where the vessel or its crew could reasonably have been expected to be found.
"The search has been extremely thorough and we are confident that had the yacht or liferaft been within those search areas, we would have found them.
"For this reason, after carefully reviewing all of the information gathered over the last month, and in the absence of any further developments, the director of Maritime New Zealand has accepted the recommendation to formally suspend the search."
The decision was not made lightly, and the rescue centre was disappointed Nina's crew had not been found, Mr Seward said.
"However, we have had to conclude there is nothing more we can do at this stage."
He said the suspension meant the search would be stood down unless any new information came to light.
Transtasman maritime radio broadcasts were continuing.
"It is possible the search could be reactivated, if any significant new information comes to light."
Mr Seward thanked the Royal New Zealand Air Force and the Phillips Search and Rescue Trust for the many hours they had spent searching for the yacht.
The RCCNZ obtained a text message this week that was sent from 18-year-old American crew member Daniella Wright which she sent via the boat's satellite phone on June 4.
The message revealed the Nina was affected by the storm, but the RCCNZ said it gave no indication of immediate distress.
The vessel, owned by American David Dyche, 58, was heading from Opua for Newcastle, Australia.
Mr Dyche was travelling with his 60-year-old wife, Rosemary, their son David, 17, and well-known maritime technology expert Evi Nemeth, 73.
British man Matthew Wootton, 35, and American Kyle Bruce Jackson were also travelling with the family.